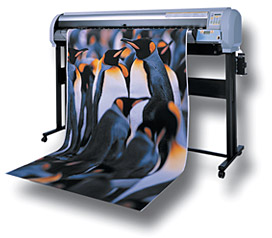 Indoor and outdoor large format posters and banners!


Our large format printing department uses state of the art digital printing equipment to produce a comprehensive range graphics and signs including, Posters, PVC Banners, Window Displays, Vehicle Wraps, Vinyl Banners, Exhibition Graphics, Backlit Signs.

We pPrint on Vinyl, Banner, and Textile. Up to 62" wide posters and banners. Exterior banner that will last up to three years without lamination. Print and cut labels. CMYK and Pantone color simulation.

We can output your designs at incredible widths and unlimited length. Since summer 2005, when we have purchased our first large format color printer, we offer fast output up to 62"print width producing bright, vivid, outdoor durable images on a wide variety of media, including matte and gloss paper, vinyl, textile, labels, transperent film, static film, and more. With our Ultima Cutting Plotter we can cut pre-printed signs on vinyl for sticker production.

Tripod Banner Stand

A lightweight Tripod Banner Stand designed to hold a vinyl graphic with eyelet grommet corners. Graphic visual area 24" wide by 70" high. Tripod Banner Stands are easy to set up and transport. Includes free carrying case. Stands can be purchased or rented for your events.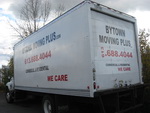 Truck Lettering
We design, print and install custom lettering and designs on cars, vans and trucks. Vinyl truck lettering and designs are much less expensive than you might think. Our reflective custom truck lettering and graphics are highly noticeable! Your commercial vehicle will work extra hard as one of the best forms of advertising for your business.

Signs
We design, print and install custom signs and they are available for any indoor or outdoor event. It can be lettering or full color design sign printed on the vinyl and mounted on the coroplast or foam PCV (polyvinyl chloride).
Coroplast signs are an ideal and cost-effective choice for short-term uses like golf outings, open houses, company picnics, and other outdoor special events. Coroplast is a lightweight twin-walled plastic, which is suitable for the application of vinyl graphics or screen-printing.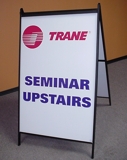 For the exhibition stand the most common material used is Foam PVC. This economical and lightweight material is extremely versatile; you can easily bend, drill, glue, suspend, cut and even re-use it! We offer Komatex or Komabrite dp Foam PCV. The smooth surface makes it ideal for show signs, easel presentations, and other posters needing. The matte finish hides fingerprints and is easily cleaned. A range of colours is available.
Metal A-frame are also available for your signs.
We also print and install signs on plexiglass such as menu boards, entrance sign board, pilons, etc.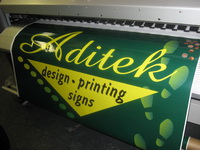 Large Format Magnetic Signs NEW!
Large format magnetic signs are now available at ADITEK. The size could be up to 24" width and any length. Our magnetic panels will stick to any flat ferrous metallic surface. It is weather resistant, thus is very popular for long term exterior use on vehicles.